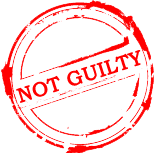 0418 404 527
Privacy Policy
Ford Criminal Lawyers deals with information privacy in accordance with the
Privacy Act 1988 (Cth)
and the National Privacy Principles set out in the Privacy Act. It also complies with the
Spam Act 2003 (Cth)
which imposes restrictions on sending emails.
This Privacy Policy sets out the Ford Criminal Lawyers policies in relation to management of personal information.
Collection
Ford Criminal Lawyers collects personal information for the purposes of fulfilling its functions and responsibilities under, and to facilitate compliance with, the Legal Profession Act 2004 (NSW) and associated regulations, to administer member services and to provide other services for legal practitioners and the public.
We may collect website visitors' contact information (like their email addresses). Unless you object, this information may be used:
to send news, information about our activities and general promotional material which we believe may be useful to you;
to monitor who is accessing the website or using services offered on the website; and
to profile the type of people accessing the website.
If you do not wish to have your personal information used in this manner or for any other specific purpose, you can email us accordingly.
Use and Disclosure
Ford Criminal Lawyers will use and disclose personal information only for the purposes for which it is collected or in accordance with the Privacy Act, including:
providing legal practitioners with information relevant to the legal profession;
maintaining membership records;
providing information on programs, services and benefits available to Members;
conducting research relevant to Members, legal practitioners or the provision of legal services;
providing information to subsidiaries of Ford Criminal Lawyers, our professional advisors and contractors, and professional indemnity insurers and practising certificate funders;
allowing use of personal information in a controlled manner by entities distributing information relevant to members or legal practitioners;
providing information to organisations which regulate or represent the legal profession; and
providing information as authorised or required by law.
Where practicable we implement measures to require organisations to whom disclosure is made to comply with the Privacy Act and other confidentiality measures.
Ford Criminal Lawyers may publish a list of legal practitioners including limited personal information such as name, address and contact information. Specialist Accreditation and other relevant qualifications may also be disclosed.
Storage and security of personal information
Ford Criminal Lawyers takes reasonable precautions to protect the personal information it holds from misuse, loss, unauthorised access, modification or disclosure.
Internet transmission of information
Where appropriate Ford Criminal Lawyers uses secure transmission facilities. However, no transmission of information over the Internet can be guaranteed to be completely secure and we do not warrant the security of any information transmitted to us over the Internet.
Cookies
Ford Criminal Lawyers makes use of cookies on the Internet. A cookie is a text-only string of information that a website transfers to the cookie file of the browser on the hard disk of a user's computer so that the website can remember that user. Without cookies, websites and their servers have no memory. This means that every time a user opens a new webpage on a website, the server where that webpage is stored will treat the user as new and require logon and password. In short, a cookie facilitates a user's passage through a website.
If you do not want your personal information to be disclosed
If you request us not to use personal information in a particular manner or at all, we will adopt all reasonable measures to observe your request but we may still use or disclose that information if:
we subsequently notify you of the intended use or disclosure and you do not object to that use or disclosure;
we believe that the use or disclosure is reasonably necessary to assist a law enforcement agency or an agency responsible for government or public security in the performance of their functions; or
we are required by law to disclose the information.
We will preserve the content of any email you may send us if we believe we have the legal requirement to do so.
Linked websites
This Privacy Policy does not apply to linked websites.
Third Parties
We will not sell or otherwise provide your information to a third party, or make any other use for your personal information, for any purpose which is not incidental to the use of this website. For the removal of doubt, personal information will not be used for any purpose which a reasonable person in your position would not expect.
Access, Corrections and Further information
You have the right to request access to any personal information held by Ford Criminal Lawyers which relates to you, unless Ford Criminal Lawyers is permitted by law to withhold that information. Any requests for access to your personal information should be made to the Ford Criminal Lawyers in writing. You also have the right to request the correction of any personal information which relates to you and is inaccurate. Any corrections should be advised to Ford Criminal Lawyers in writing.
Your email message content may be monitored by us for trouble-shooting or maintenance purposes or if any form of email abuse is suspected.
Personal information which we collect may be aggregated for analysis but in circumstances we would ensure that individuals would remain anonymous.
All personal information which we collect (including your contact details and, if relevant, credit card details) is kept confidential to the best of our ability. You will appreciate, however, that we cannot guarantee the security of transmission.
We consider it is the responsibility of parents to monitor their children's use of our website. Nevertheless it is our policy not to require personal information from persons known to be under the age of 18 years or offer to send any promotional material to persons in that category.
If you wish to comment on or query our privacy policy, or if you wish to make an inquiry regarding any personal information relating to you wish may be in our possession, contact us using the below details:
Contact
If you have any questions relating to these terms of use, please contact
us here
.